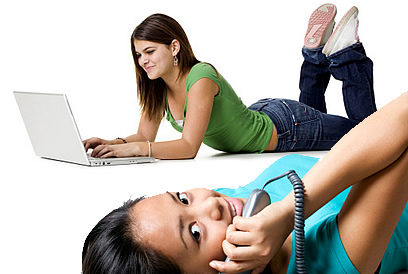 Take advantage of your high speed internet connection at home
Start enjoying convenient cost saving internet phone calls plus loads of extra benefits that come with the new generation phone products
Dialtone Technologies Phone products all come with call forward/divert functions, so you never have to miss those important calls when you are out or away from your phone or even when there is a power surge in your neighborhood
Turn your PC or Laptop into a phone
Unlimited FREE internet calling and huge savings on international toll calls
Suitable for the Home User who already have a high speed broadband internet connection.
Why use it just for surfing and emailing when you can use it to for VoIP calls and Video conferencing as well? There is no need to apply for expensive telephone lines anymore.
What's more, even when your PC or Laptop is off phone calls from the rest of world is still able to reach you. Isn't this value for money?
VoIP (Voice over Internet Protocol; also known as "digital phone service" and "Internet phone service.") uses your Internet connection to place and receive calls. The growth of high speed internet has made this technology available for a low monthly flat rate for residential consumers, like the residential plan offered by Phone Power or ITP.
Most plans include unlimited local and long distance calling. On top of that, they usually include some of the more advanced features that traditional phone services charge an arm and a leg for: caller ID, voicemail, call waiting, and more. Instead of using traditional phone lines, VoIP uses high speed internet, VoIP Phones and VoIP adapters to work.